Following on from my accident, I chased and chased last Thursday to find out whether the AA would cover the laptop.
They had no record of in their policy, and Julie was certain she asked for it.
So they were pulling out the original call recording taken when Julie placed the order.
3pm on Thursday, after phoning the AA an untold number of time, they finally confirm:
We've check our records and laptop

is

covered for £2000 damage in and out of your home.
Phew!
I get transferred through to claims, and through a few false starts (being cut off, etc) I finally placed the claim.
I've never made a claim before, so I didn't know what to expect. I was told a company called 'IT Solutions' would dealing with me and checking the PowerBook over to confirm the damage and propose the repair or replacement.
Turned out the company was called 'IT Assured' - and going by their web sites (compared to IT Solutions) - thank f**k!
My laptop was almost 2 years old, and I was aiming to buy a new one next year...but this was accelerating the decision for me.
I spoke to IT Assured and they arranged a pick up for the following Tuesday (just gone) and they would asset it over the next 5 days.
I had already gone to the trouble of finding a quote for replacing the screen, so I knew that it would cost me around £750 including VAT. A new MacBook Pro would cost £1,400. ::sigh::
Then I receive a phone call on Wednesday (yesterday):
Mr Sharp, we've assessed your laptop, and we have decided it is...
Held my breath...
irreparable, so we're replacing it with a new MacBook Pro direct from Apple.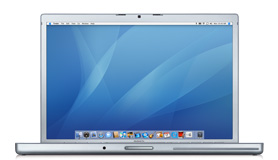 Whoohoo! Turns out the system works!
Thank you lucky streak - here I come brand new Mac! Clearly I was happy about this decision - next step: get them to erase the contents of the disk...I don't want it turning up in some random market stall!